Alpinemojo may be a young Verbier ski school, but our ski instructors are all very experienced skiers with qualifications to match.
When we were forming the company, we took time to consider what type of ski instructors we wanted to offer our clients – specifically seeking out experienced skiers, great ski teachers who loved to teach, and people who were good company.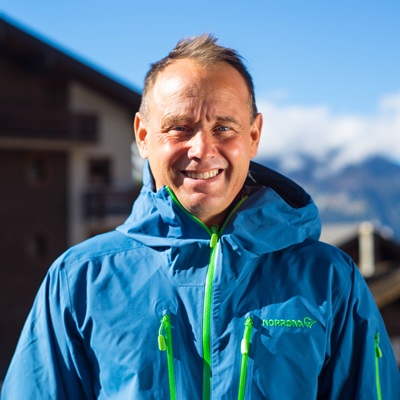 Roddy Willis
Ski Instructor, Verbier
IASI Level 4 (ISIA Card)
Swiss Brevet Federal
Italian Meastro de Ski
Roddy has been living in Verbier since 2005 and is one of the directors, owners and founding partners of Alpinemojo.
Roddy tried an office job in the 80's and quickly realised it wasn't for him. He decided to head for the Alps in 1988 and has never looked back, working in a number of different jobs from hotel dish washer to ski school technical director and managing to do nearly three full ski seasons whilst getting a degree in furniture design! The common thread running through the past 28 years is Roddy's love of the mountains and skiing. Roddy is a born communicator and combines this with his love of skiing and vast experience to help his clients achieve goals beyond their expectations.
Alpinemojo Ski School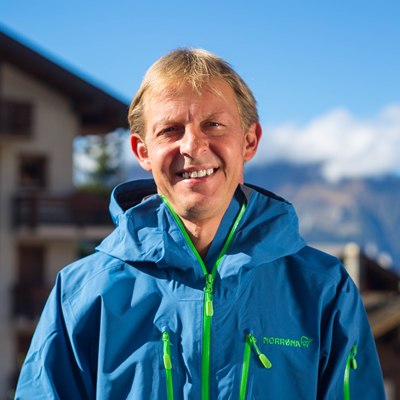 Steve Gray
Snowboard Instructor, Verbier
Swiss Brevet Federal
Steve has been living and working in Verbier since 1999.
Whilst skiing in New Zealand's Southern Alps on a gap year, Steve ended up sharing accommodation with the Transworld snowboarding team. They lent him a snowboard and from that moment he was hooked.
Back in the UK, Steve felt snowboarding beckoning to him. To feed his addiction, Steve came to Verbier for what he believed would be just one winter season. A few seasons later, he decided to quit the UK and live in the mountains to continue his training to become a snowboard instructor. He was the first British person to obtain the Swiss Brevet Federal Snowboard Instructor qualification.
During the summer months, Steve runs his own successful flooring business and spends the winter months doing what he loves most – teaching snowboarding and riding with friends.
Steve has a vast knowledge of snowboarding. Whether you're a rookie or looking to improve your technique, Steve's your man!
Alpinemojo Ski School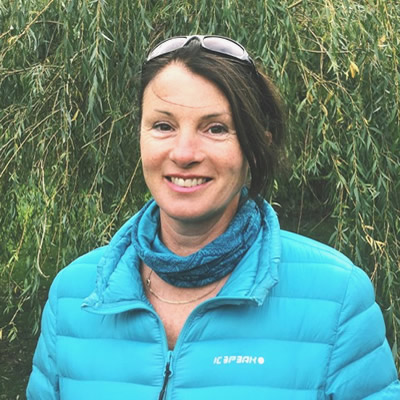 Rosie Wranek
Ski Instructor, Verbier
BASI ISIA Level 3
Rosie tried desk jobs in the early 80s but in 1984, she headed to the Alps, got a job as a bar manager and then as a tour rep for school skiing companies. She became completely addicted to skiing and mountain life. At 27, Rosie headed back to UK, started her own business, winning 2nd place in Business Woman of the Year, got married, had two kids and built and renovated houses. In 2006 she moved back to the Alps with her children and taught them both to ski. She has never looked back.
Rosie is passionate about ski teaching and feels privileged to help her clients achieve their skiing goals, live their dreams and fulfil their lives.
Alpinemojo Ski School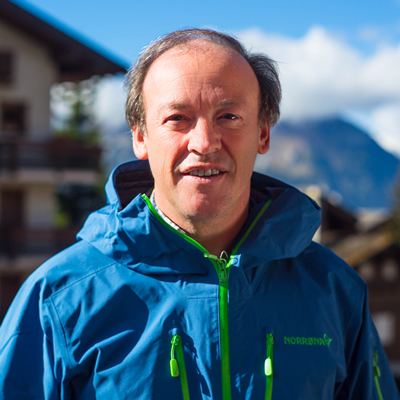 Chris Buckley
Ski Instructor, Verbier
BASI Level 2
Chris has been skiing in Verbier since 1992 and is one of the directors and owners of Alpinemojo.
After completing a degree in Pharmacology/Physiology, Chris spent the next 30 years working in a variety of international marketing roles within the pharmaceutical industry. He has been lucky enough to have been living and working in Switzerland for the past 24 years.
In 2014, he decided to make a small change to his career, resigned from his company and signed up for a gap-year ski instructor-training course (secured his BASI L2 qualification) and had great fun, both improving his own skiing and loving to help others to improve their skiing technique/confidence and their overall ski happiness index.
This year, Chris decided to combine his love for skiing and helping others to love skiing with his commercial skills and is one of the founding partners in Alpinemojo.
Alpinemojo Ski School
Emma Tudor Hughes
Ski Instructor, Verbier
BASI Level 2
Emma's father was a keen skier and ski mountaineer who introduced Emma to skiing when she was very little and her Swiss family and cousins just happened to be from a ski resort. After finishing her degree, Emma then headed straight to the mountains and pretty much stayed. Emma says she tried a 'proper' job in the 'real world! ….but somehow nearly 20 years later she is still living in the Alps with her husband and their two boys.
Emma has been living in the Verbier area since 2005 – She says 'I feel privileged to be able to teach skiing here and to share this fantastic sport and location with children and adults alike'.
Alpinemojo Ski School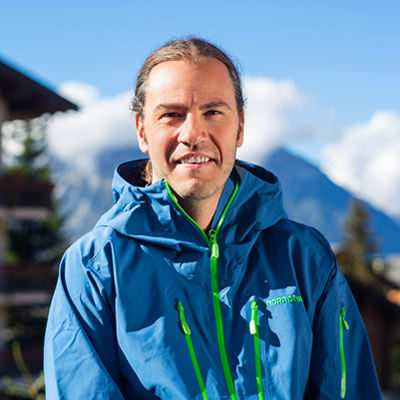 Pierre Ferrez
Admin Guru, Verbier
Admin Guru
Pierre has been living in Verbier for more than 40 years and is one of the director owners and founding partners of Alpinemojo.
Born and bred in Verbier, with a father deeply involved in the development of the resort since the 60s and an uncle who was president of the Commune of Bagnes for 24 years, Pierre has strong local connections.
Skiing is in his DNA and he knows the resort and the ski area like the back of his hand. However he understands what it can be like when you first hit the slopes. His first day at ski school aged 5 was a disaster – he ran away from the nursery slope!
Passionate about mountains, skiing and telemarking ever since he was a teenager, Pierre worked a couple of seasons for the Swiss Ski School in Verbier in the early 90s during his studies, and has been active in the local telemark club for several years.
The idea of creating a new ski school in Verbier to pass on his love of skiing and provide both clients and instructors with an alternative top quality service has been in the back of his mind for a long time. Alpinemojo is a dream come true.
Alpinemojo Ski School